Kindness on Wheels
Partnerships are a great way to accomplish a task that would be impossible to do alone. ConnectAbility knows how valuable partnerships in the community are and we are so grateful to have gained a new partner in 2019. Home Depot Pro and the new hires have come together to build bicycles to donate to ConnectAbility as part of our Meet Your Neighbor program.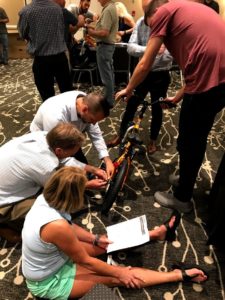 The new team members have the chance to work together, have some fun competition and assemble brand new bikes that they'll never see again. ConnectAbility has the opportunity to go to the Home Depot headquarters in Atlanta to share our mission and meet some great folks from all over the country as they gather for their training. Then when we come back home to North Georgia, our friend Ryan at Nimblewheels Bikes takes a look at every bike to make sure it's ready for adventure and our friends at Dahlonega Mountain Sports made some great shirts to give away. Finally, ConnectAbility partners with local schools to recognize students for demonstrating kindness in everyday ways that make a big difference.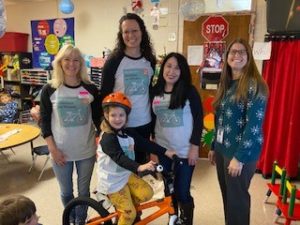 What happens when these partnerships come together? Relationships are formed, bikes are shared and kindness is encouraged. It's a winning partnership!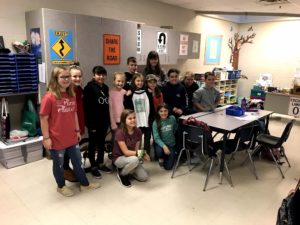 We are so grateful for great partners like Home Depot, Nimblewheels Bikes and our local schools to spread our mission of creating communities where people of all abilities are valued, included and empowered.
We want to share with you today some of the kids who have been recognized for showing kindness. The thing is, none of these acts of kindness take a long time, a bunch of hard work and best of all they don't cost any money! As you read these small gestures of kindness, let's all make a plan to incorporate these into our daily lives.
Alivia always checks on classmates who are sick or sad.
Paislee patiently works with group members to help them all be successful.
Aurora helped another student get organized.
Damian helped clean up a spilled lunch tray in the cafeteria.
Gracie has excellent manners and is often seen helping other students.
Phenix takes initiative to help other students and the teacher.
Journey picks up trash from the playground at recess.
Allison helps keep the classroom and computers neat and organized.
Charlie is kind to his classmates and loves to learn.
Trentyn always has a smile for friends & teachers.
Kelsey shares her generous and loving spirit with everyone around her.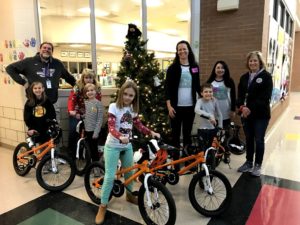 Aren't these the simple things that make life more enjoyable? We are so proud of these kids for deliberately choosing kindness and we are very happy to recognize them with a shiny orange bike with a bell & water bottle and a brand new helmet to keep them safe as they ride!
What a gift for us it is to be able to deliver the bikes to the schools and present them to the winners. Teachers and school leadership beam with pride at their students. A few tears of joy have even been shed by teachers so eager to lift up students who may not receive academic or perfect attendance awards. One parent even took time off work to come to school and see her son be recognized. Their smiles say it all!
It is a sacred moment to watch a 6 year old walk up to a bike, touch it gently and say reverently, "I've never had a bike before."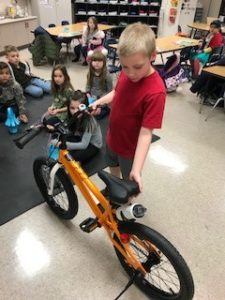 It's exciting to surprise a child and watch the grin of surprise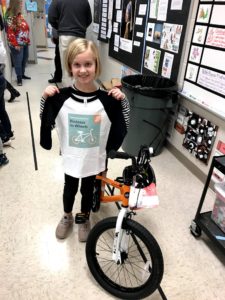 or the hesitant smile of shyness.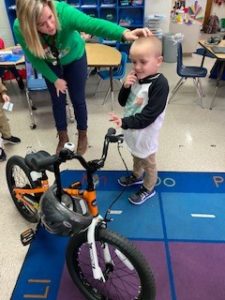 It's humbling to watch teachers and school administrators fill with emotions and wipe away tears at the sight of students being recognized for simple acts of kindness.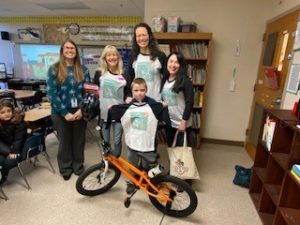 We got this email from a teacher after a bike delivery-
Dear ConnectAbility,

I am typing through my tears of joy as I write to express to you how genuinely appreciative I am of the kindness you have shown today by delivering bikes to students in our school. A student in my classroom received one of those bikes, and it was such a happy and joyful expression on his face.

"How beautiful a day can be when kindness touches it." George Elliston.

May you all have the Merriest of Christmases and receive back all the kindness you have extended to others.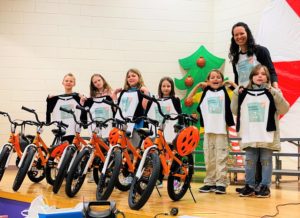 Here's a summary of what we have learned – the best way to get richer is to give away our gifts!
Thank you Home Depot for making it possible for us to be so rich this holiday season!