History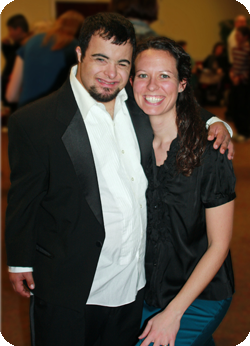 ConnectAbility began with a question in early 2001.
As a college student, Jacqueline Daniel had moved away from home and missed the friends with disabilities she had made in her hometown. She asked if there were any groups in the Dahlonega area for children and adults with disabilities. The answer: "No, but why don't you get that started?"
After many months of planning, the first Sidekicks Respite night was held in November 2001 with one participant and six volunteers attending. From those humble beginnings, Sidekicks has grown to a monthly group of around 100+ participants and volunteers. Monthly meetings are held on the third Friday of each month and several annual events have become a part of the group: Prom in the Spring, Vacation Bible School classes in the summer, Pool Parties and more.
A dream of Jacqueline's was to expand the reach of the Sidekicks program to offer more opportunities for people in our community affected by disability as well as encourage and equip other communities to begin similar programs. This dream became a reality on January 1, 2010 when Stepping Stone Farm, Inc. became ConnectAbility, Inc. and Jacqueline came on as President. Bringing a Bachelor's degree in early childhood and special education along with a Master's degree in special education along with six years teaching special education in the public school system, Jacqueline is excited to lead this organization to provide excellent services for children and adults with disabilities.
ConnectAbility offers support for families affected by disability by providing programs to all family members: parents, siblings and extended family as well as the individuals with disabilities.
Relationships are very important to us and we welcome you to join our family.
Will you partner with us?
ConnectAbility, Inc. is a 501(c)3 not for profit organization recognized by the IRS.