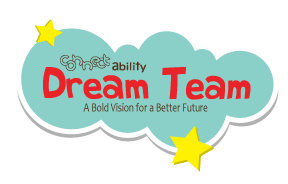 People with disabilities constitute the nation's largest minority group, and the only group any of us can become a member of at any time.
Almost 1 in 5 Americans have a disability of some kind.
Brothers and sisters of kids with disabilities often struggle with feelings of resentment or bitterness towards parents or the sibling with disabilities.
Parents of kids with autism can have stress levels similar to combat soldiers.
Adults with disabilities can face years of social isolation and loneliness in addition to physical barriers.
This information can sound bleak, overwhelming –even hopeless.
But there is an opportunity to reach out to families and offer them a source for support, encouragement and friendship. ConnectAbility has the incredible opportunity to make a big impact in our community by providing essential supports for ALL members of families affected by disability.
WHAT DOES CONNECTABILITY DO?
ConnectAbility began in the Fall of 2001 and has expanded to include Sidekicks Respite Care, Parent
Share Groups, Sibling Support Groups and invaluable community connections for children and adults with special needs. In an average month, ConnectAbility serves nearly 100 families and individuals from Northeast Georgia.
By connecting with families, we are able to offer services, education and practical help in addition to hope and friendship. We offer all our services at NO CHARGE to families.
WHAT CAN I DO ABOUT IT?
ConnectAbility is leading the way in Northeast Georgia for families affected by disability. But we can't do it without help from generous supporters. That's why we have developed the new ConnectAbility Dream Team. Dream Team members like you have the opportunity to provide direct support to the families who need it most. All it takes is a gift.
Want to know how to join the Dream Team? Make a commitment to partner with us by providing a tax deductible monthly donation in the amount of your choice.
For as little as $25 each month, Dream Team members can provide practical support for an individual with disabilities and his or her family. See more details below about what your gift provides.
As a member of the Dream Team you'll receive an exclusive quarterly newsletter with stories of lives being changed. You'll also be invited to attend special events throughout the year.
Ready to make a difference today? Let's get started!
| | | | |
| --- | --- | --- | --- |
| Goals | Respite | Parent Groups | Sibling Groups |
| Our Programs | A short break for parents & caregivers and a fun social opportunity for kids & adults with disabilities | Support Groups for parents and caregivers  | counselor facilitated sessions for brothers & sisters of kids with disabilities |
| Currently Offered | Host an avg. of 90 kids and adults per month | 10 parent group meetings per year | 4 sessions/year |
| Future Goals | Expand events to host 150+ kids and adults monthly | 20 parent group meetings/year: evenings and daytime | 10 sessions/year |