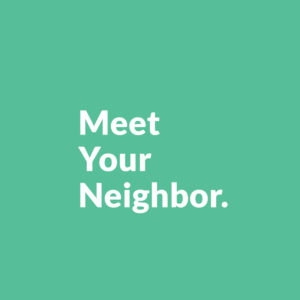 ConnectAbility Inc, in partnership with Georgia Council on Developmental Disabilities, has created the "Meet Your Neighbor Project." This community-based project teams "listeners" of all abilities who interview local residents and collect stories. Meet Your Neighbor is a Real Communities Project led by ConnectAbility. Our goal is simple: to get to know our neighbors and bring people of all abilities and backgrounds together through the sharing of gifts and talents right here in our community!
Here are some quotes from our neighbors:
"I like how there's lots of opportunity to serve here. There's lots of opportunity to love on other people."
"I think it's so important to understand others and be tolerable and loving and respectful despite the differences. Being respectful of each other and their thoughts and opinions and thoughts while building community"
"The first thing I like about living here is all of the things they do on the square. Last night was trick or treating and I love all of the Christmas lights and gold rush and the parade and opening day for baseball. Those little things are what makes this place Home."
"One of the gifts discovered in this project, is people can share their knowledge to each other making the world a better place. Another gift is they can share their own life experiences, helping people to better understand each other."
Table Talk Series
What is it?
This four-part series will explore the Single Story narrative and how it stalls the friendships and growth of communities. We will talk about our own Single Stories, share some food, and wrap up our series with a community project. During our fourth and final meeting, we will be painting a couple of picnic tables turquoise to put in various places in our community. The Turquoise table was started by a lady named Kristen Schell in Texas to encourage her neighbors to get to know each other.
What it is the Single Story Narrative?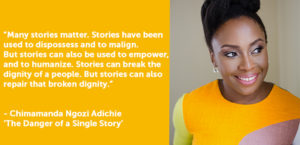 To learn more about the topic of Single Stories, watch this great Ted Talk "The Danger of a Single Story" by Chimamanda Adichie. Consider how Single Stories have affected your life and your communities, then come share your thoughts at our Table Talks! You will also hear other's encounters with Single Stories.
What is the Turquoise Table?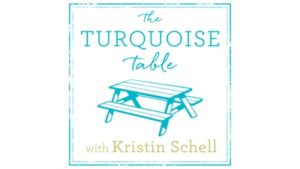 Kristin Schell wrote "The Turquoise Table: Finding Community and Connection in Your Own Front Yard" which has inspired our Meet Your Neighbor Project to paint Turquoise Tables to finish this Table Talks Series. Learn more about the Turquoise Table here.