BAM: Books and Movie Club
BAM is the perfect club for anyone that loves to read/listen to books and watch movies! Being a part of BAM means connecting with others in your community by sharing an interest in books and/or movies!
You're invited to join a group of BAM members who enjoy reading together at our BAM Read Alongs. Some members take turns reading the book out loud while others just enjoy listening together. We use private Zoom meetings as the online platform for the Read Alongs so you'll need to sign up ahead of time. These Read Alongs are encouraged but totally optional.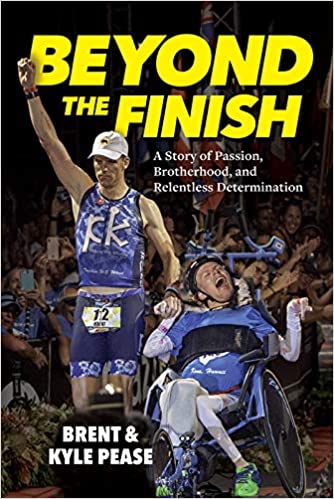 Our July book selection is Beyond the Finish by Brent & Kyle Pease. It's an amazing story of passion, brotherhood, and relentless determination.
If you are interested in joining the BAM club, need accessible options such as audiobooks, ebooks, and talking books, or have any questions, email Connie at connie@connectabilityinc.org.
Options for finding a copy of the BAM books or audio tapes
If you are unsure of how to find a copy of the current BAM book, here are some great options:
Check out your local library to rent the book or audio tape
Sign up for our free accessible reading program (email Connie for details)
Look on Amazon (https://www.amazon.com/) for new or used copies
Join Audible (https://www.audible.com/) for access to audio tapes
Shop on ThriftBooks (https://www.thriftbooks.com/) for cheap copies of used books
ConnectAbility does have a few copies of the BAM books in the office to borrow, but please contact Connie (connie@connectabilityinc.org) to confirm it is not being read by someone else
The Hunger Games by: Suzanne Collins

In this gripping novel set in a future with unsettling parallels to our present, the nation of Panem consists of a shining Capitol surrounded by 12 outlying Districts, in the ruins of the area once known as North America. In this stratified society where the Capitol controls all resources, 16-year-old Katniss and her friend Gale forage for food in the woods surrounding their impoverished District. The main support for both their families, Katniss and Gale are apprehensive about the approaching annual Reaping, when two "tributes" between the ages of 12 and 18 will be chosen by lottery from each of the 12 districts to compete in The Hunger Games, a survival contest on live TV in which teenagers fight to the death...

1